Virus Hunter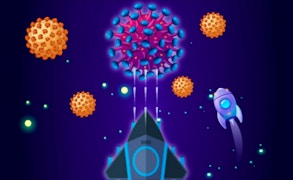 Virus Hunter
As an avid gamer and connoisseur of battle games and airplane games, I've been blown away by the captivating experience delivered by Virus Hunter. This adrenaline-fueled, heart-thumping game masterfully melds elements from the best flying games, survival games, and skill games, promising an unforgettable thrill ride.
In the face of a worldwide viral outbreak, you're thrust into the fray as humanity's last hope. Your mission should you choose to embrace it? Hunting down these lethal strains, brilliantly bringing to life the central premise of this game - becoming a fearless Virus Hunter.
The crux is your ability to adapt to every tense situation that comes your way. One moment, you might be dodging enemy fire in mid-air - a nod to classic airplane games. The next, you're strategizing ways to survive the onslaught, reminiscent of the finest moments in top-tier survival games.
The robust set of skills needed in Virus Hunter elevates it above similar titles. It's not just about aim and shoot gameplay; it's about managing resources, understanding enemy behavior patterns, and making split-second decisions that could mean life or death, solidifying its credentials as one of the best new skill games.
If you have been searching for a game that keeps you on your toes, menaces you with danger around every corner while also testing your strategic acumen, look no further than Virus Hunter. This masterpiece successfully encapsulates elements from various beloved genres such as battle games, flying games, and survival games. An adventure for those who crave challenge and excitement in their gaming experiences.
The world needs its Virus Hunters now more than ever! Don't wait another moment; step into this audacious role today!
What are the best online games?