Time Shooter 3: SWAT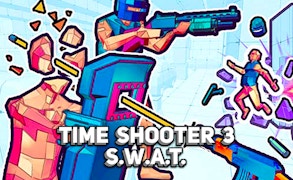 Time Shooter 3: SWAT
Calling all shooting game enthusiasts! Get ready to dive into the intense, adrenaline-pumping world of Time Shooter 3: SWAT. This is not just a game; it is an immersive experience that transcends the boundaries of conventional gun games, skill games, war games, and survival games.
The stakes are high and every move matters; time only advances when you shift your position, an evolutionary gaming mechanic inspired by SuperHot. You play as a seasoned member of the SWAT team tasked with nothing short of saving the day from cunning terrorists who have acquired SWAT gear and taken hostages.
Bullets whizz by in slow motion, enabling you to dodge them with impeccable precision. But this time the enemies are well prepared. They're donning shields, body armor and even helmets. Imagine facing off against such a formidable force with nothing but raw skill, bravery and your trusty firearm.
The game challenges you to breach doors using a battering ram, a brooding mix of brute strength and strategic planning needed to play effectively in Time Shooter 3: SWAT. You have an array of powerful weaponry at your fingertips ranging from pistols, machine guns to shotguns. Your mission? Obliterate your foes and rescue those innocent hostages.
Drawing from the best elements of skill games, it's more than just about shooting targets; it's about honing your skills and sharpening your wits under fire. And as war games go, Time Shooter 3: SWAT delivers an intensely realistic depiction of conflict that will keep your heart racing.
With its nail-biting suspense and unique slow-motion mechanic, Time Shooter 3: SWAT stands out brilliantly in the realm of war games, reinventing the meaning of suspenseful gameplay within shooting and survival games.
What are the best online games?