Survival 456 But It's Impostor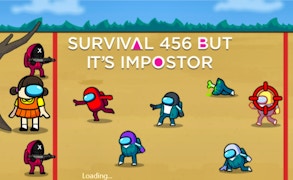 Survival 456 But It's Impostor
Survival 456 But It's Impostor artfully marries the thrills of survival games and the strategic cunning of impostor crewmate games, representing an innovative concoction within the realm of shooting games, which is bound to satiate both adrenaline junkies and strategy lovers.
This incredible combination turns what once was a notable pastime into an accessible smartphone game, bringing both the heat of the battle and the chills of zombie games right into your pocket.
Survival 456 But It's Impostor is much more than a simple red light-green light game. It packs in four distinctive classic games that are easy to play but difficult to master. Full modes are on offer here; from Red green light to Glass Bridge, Battle mode, Rope Rescue, Zombies mode, Tug of War, Dalgona Candy to Marbles - this game surely transcends the boundaries of typical running games.
The thrill reaches its pinnacle when you become aware that your motion supervisor has morphed into a doll. The race is on as players vie to reach the finish line without being detected by this eerily rhythmic doll. Fans of survival and battle games will appreciate this unique challenge - it's all about moving sneaky but quickly to ensure your survival.
Survival 456 But It's Impostor, therefore, becomes a riveting fusion of excitement factors that renders it a standout in the genre. The counting speed alterations and nefarious doll adds a layer of unpredictability that will keep gamers on their toes.
If you're looking for an engaging mix of survival and battle games laced with elements from zombie and running games, Survival 456 But It's Impostor won't disappoint!
What are the best online games?