Pixel Wars Apocalypse Zombie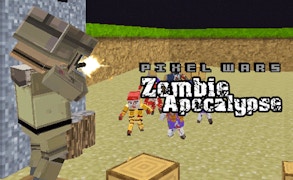 Pixel Wars Apocalypse Zombie
Welcome to the realm of Pixel Wars Apocalypse Zombie, a fusion of gun games, zombie games, and pixel games. This remarkable title challenges your survival instincts in a pixelated apocalypse, encouraging team-based warfare and presenting modes like Team Death Match (TDM) and Death Match (DM), making it stand out amongst a sea of generic war games.
The game thrusts you into the chaos of an undead-infested world, forcing you to harness your battle strategies. Whether you're a lone sniper or you prefer joining forces with others in thrilling battle games, Pixel Wars Apocalypse Zombie has something for every shooting game aficionado. If playing as the hunter gets tiresome, switch roles and become the hunted, immersing yourself into one of the most engaging zombie games.
In a sea of polished AAA titles, this game successfully manages to transport us back to a time when gaming was simpler! Heavily inspired by retro pixel games, each pixellated zombie horde and gun brings forth feelings of nostalgia which few modern day titles could aspire to achieve.
The standout feature is its multiplayer mode. Battle against players worldwide, testing your mettle in various modes like TDM and DM. Clamber up leaderboards, carve out your legacy in this pixel land. Whether it's sniper strategies or full-blown mayhem with machine guns, the choice remains yours.
If you're a fan of visceral combat that demands both strategy and reflexes, Pixel Wars Apocalypse Zombie is an irresistible combination of old-school charm and fast-paced action. It's one of those gun games that offers more than mindless shooting making it an absolute must-play!
What are the best online games?