Bank Robbery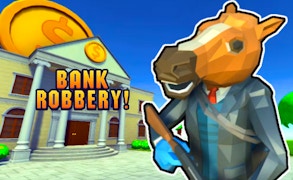 Bank Robbery
The idea of carrying out the perfect heist is a part of many action fantasies but rarely do they ever go well resulting in battles like the ones in Bank Robbery. You play as one of several masked robbers who are in the process of robbing a bank when police forces decide to storm the place. It's a 3D first-person shooter with polygonal graphics and very blocky enemies and teammates to encounter. Unfortunately, one of your teammates is busy counting and collecting the money so it's mainly up to you and any other free NPC allies to help out by fighting back continuing police assault.
About Bank Robbery
You would think that stealing whether from a bank or a house would require a bit more finesse. Well, the game has already taken care of one part by getting you into the bank, now you just have to survive. You've got a lot of space and structures to work with in this workplace battlefield as you try to get the drop on police with whatever weapons you're able to afford. It's fast and satisfying to land shots, but you can't be too careless otherwise the shots and more powerful units will quickly descend down on your limited health.
How to Play
Bank Robbery is a fast-paced FPS controlled between the mouse and keyboard. It can have quick and short movements based on the inputs.
Controls
Mouse Cursor - Look Aim
Left Mouse Button - Fire/Attack
Right Mouse Button - Precise Aim
W - Move Forward
S - Move Backward
A - Move Left
D - Move Right
R - Reload
C - Crouch
Q/E or Mousewheel - Cycle through weapons
The game is fairly simple in that it's an endurance challenge. When you're active, you're free to move around the bank while police forces will spawn in certain areas (indicated by smoke). Enemies and allies are tracked with the compass line at the top of the screen marked with red and green respectively. When you eliminate all the enemies, you'll earn some money and health will be restored. The number of waves you need to complete will be shown in the top left corner of the screen. When all waves have been completed, you'll return to the money screen where you can buy new weapons and hire help. The goal is to earn enough money to buy a helicopter and escape.
Tips and Tricks
The enemies move in very randomized patterns and will often flee or charge you as you get closer. For each enemy type, a close-up headshot will always do massive damage but don't risk running out in the open to land it. If things are too hard, you can grind the same few waves in whatever level you're on in order to earn some extra money.
Game Details
Developer: justaliendev
Platforms: Web Browser (PC and mobile)
Languages: English
Gameplay Footage
FAQs
Is Bank Robbery a multiplayer game?
While the setup of the game would leave room for local or online multiplayer between cops and robbers, it's currently a single-player game. It's just you as one of the robbers fighting against waves of computer-controlled police.
Is the game based on a real robbery?
While bank robberies still do occur around the world, this game is a fictional scenario of how a bank robbery could play out.
Games similar to Bank Robbery
Based on what you're doing in this game, it can be found in the Shooting and Survival Games categories on GamePix. These selections also have titles like Strike Galaxy Attack, Subway Clash, Battledudes, and Bullet Party.
Bank Robbery belongs to Shooting and it is often associated with Gun Games and First Person Shooter Fps Games. This game has received 1747 votes, 1615 positive ones and 132 negative ones and has an average score of 4.5.
It is a game played in landscape and it's playable on Desktop on gamepix.com. This game has been published on 2022-08-24, and updated on 2022-08-24.
What are the best online games?