2048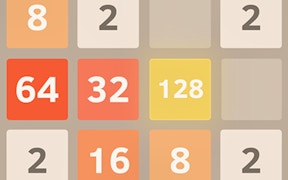 2048
There was a huge surge in Sudoku puzzles and part of this has been brought across to 2048. Making a successful game is in a sense a numbers game in terms of getting attention and getting enough people to play. It can be described as a mix between a crossword and a sliding block puzzle game. The whole game is played on a simple 4x4 grid and you start with two random tiles filled with numbers. You'll be sliding from side to side and combining blocks to maintain space so that your numbers can climb higher. The best you can do is try to make sure that every number finds a match.
About 2048
While not as large as the Sudoku playing space, 2048 has charm in its limitations and the illusion of space. It starts off feeling pretty empty but you'll be caught off guard by just how quickly the tiles fill up. It gets to the point where you're constantly hoping that there will be at least one tile free to allow for some movement. It's challenging your sense of strategy in a very restrictive space where every move has the potential to make or break your stride. All you can do is try to clear a path to victory.
How to Play
Since 2048 takes place on such a small grid, there's not much demand for difficult or confusing controls. The only thing you're trying to do is slide tiles with the same numbers into each other to add them together, create space for new tiles, and get bigger numbers. The ultimate goal is to get one of your tiles up to 2048. You can click on New Game to reset the grid if need be.
Controls
The controls for sliding are basic and regulated entirely by a few buttons on the keyboard. They are as follows:
W/Up Arrow - Slide tiles up
A/Left Arrow - Slide tiles left
D/Right Arrow - Slide tiles right
S/Down Arrow - Slide tiles down
Whenever you press a button to slide, all the tiles on the grid will slide in that direction (assuming they can). However, the tiles operating on the collision rule can affect your decision-making. For example, imagine your tiles cover the top row and there's a single tile below the one on the far left. If you were to slide the tiles to the right, only the lone tile would move. When sliding, tiles will move as far as they can until they hit either a wall or another tile and if the tile is the same number, they will merge into one tile with the sum of those numbers. Also, note that every time you slide, a new number 2 tile will appear.
Tips and Tricks
The game tends to start you off with two tiles both with the number 2, though occasionally one will be a 4. RNG plays a large role in how the game plays out, but a good rule of thumb is to start on the outside tiles and keep the center open. This can help lower the chances of filling up the center too quickly and blocking you out.
Game Details
Developer: Gabriele Cirulli
Platforms: Web Browser (PC and mobile), iOS, and Android
Languages: English
Gameplay Footage
FAQs
Is there a winning pattern?
While no strategy guarantees a win every time, it's generally practiced to keep the largest numbered tiles in the corner of the grid.
Can you go past 2048?
Even though you'll have won the game once you get a tile to 2048, you're free to keep playing and aim for an even higher number as long as you have space to move.
Games similar to 2048
This game is part of both the Puzzle and Math game categories on GamePix. Searching through them on the site will show you games like Math Fever, Super Chains, Doodle God, and Block Jewel.
What are the best online games?