Squid Shooter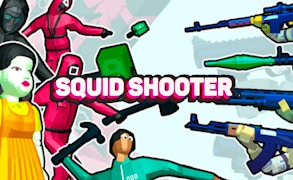 Squid Shooter
When Squid Game came out on Netflix, it's safe to say that many were glued to their screens to watch it and others were prepared to make games about it like Squid Shooter. The world of Squid Game is a brutal one and this game captures that to a degree but with much less brutality and more ragdoll physics going on. It follows the premise of the show to a very basic degree with the most notable connection being the assets. Still, it lets you revisit a lot of the elements of the series as you unleash firepower on all of them.
About Squid Shooter
It seems like forever since Squid Game came out and the creator has been taking his time with continuing it. To hold us over, we've had to deal with many games related to the show, some being realistic and others more comical. This game leans towards the latter while having a battle royale kind of touch to it. It's an endurance challenge that tests your perseverance and your curiosity to see just how long you can go. There may be an end to this particular Squid Game if you're willing to see it through, but it could take you quite some time.
How to Play
Squid Shooter is a 3D first-person shooter set in the Squid Game universe that is controlled with a mouse and keyboard.
Controls
Mouse Cursor - Look/Aim
Right Mouse Button - Precise Aim
Left Mouse Button - Fire
W/Up Arrow - Move Forward
S/Down Arrow - Move Back
A/Left Arrow - Move Left
D/Right Arrow - Move Right
Num. Keys - Cycle Through Weapons
R - Reload
F/Q - Melee Attacks
G - Throw Grenade
T - Look At Weapon
E - Discard Weapon
The game is presented in levels and the goal of each one is to eliminate all of the opponents in the arena. The number of opponents you need to defeat is tracked in the top left corner of the screen. Your health and ammo is shown in the bottom left corner of the screen. If your health bar is fully depleted, you'll have to restart the level.

Each level begins with you spawning in a random location as enemies begin to make their way toward your location. Enemies will vary in shape and size but will attack using a variety of melee weapons. Other enemies will spawn in vantage points on various structures where they will throw projectiles and grenades at you. You're restricted to the ground but are free to move around and use the structures as cover.
Between levels, you can choose different weapons and power-ups to take into battle. The ones you buy will occupy the numbered slot of that weapon type. As indicated by the note, everything you buy will only last two levels.
Tips and Tricks
There's absolutely no rush to eliminate enemies as quickly as possible as everything is in your favor. Enemies move very slowly and you have so much health to absorb damage. The biggest threats are grenades so keep an eye out for their highlighted icons.
Game Details
Developer: UncreativeAri
Platforms: Web Browser (PC and mobile) and Android
Languages: English and Russian

Gameplay Footage
FAQs
Is Squid Shooter an online game?
It may have the presentation of other online and seasonal FPS games, but this one is single-player only.
Games similar to Squid Shooter
As you can probably tell from the title, this game fits into the Shooting and Gun Games categories on GamePix. It shares these spots with other games like Time Shooter, Bank Robbery, Zombie Mansion, and Alpha Guns.
What are the best online games?