Sky Battle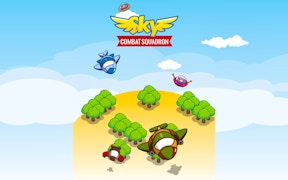 Sky Battle
Step into the adrenaline-pumping world of Sky Battle, one of the most thrilling airplane games in the action genre. Sky Battle is not just about flying; it's about conquering the skies and obliterating enemy forces amidst heart-stopping aerial combat, making it amongst the apex of flying games.
As a riveting fusion of gun games and battle games, Sky Battle pushes you to your limits. It tasks you with the critical missions to collect drones, stars, life, super features, and various upgrades. But be warned! The skies aren't friendly here. Expect dogfights with enemy ships, dodge terrifying missiles and maneuver around lethal radioactive barrels.
The action doesn't stop there! Sky Battle steps up as a thrilling battle game as you find yourself pitted against nefarious mines. Imagine an unseen foe lurking just below the clouds ready to explode at your slightest contact - if that isn't enough to get your gaming senses tingling, what else possibly could?
A standout feature of Sky Battle is its seamless arcade shooting experience. The controls are smooth and responsive, ensuring that you're fully immersed in this death-defying aerial ballet. You'll seek refuge in stars and life packs while dispatching enemies with your enhanced weapons system.
In conclusion, Sky Battle offers an intensified gaming experience that scales new heights in the realm of Action Games. Whether you're a die-hard fan of airplane games or merely a casual gamer seeking some high-altitude excitement, Sky Battle needs to be on your radar.
What are the best online games?