Masked Forces vs Coronavirus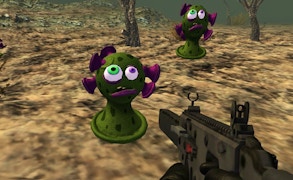 Masked Forces vs Coronavirus
Engage in a heart-stopping shootout amidst a pandemic in the unique shooting game, Masked Forces VS Coronavirus. As the title suggests, this game cleverly combines the electrifying elements of gun games, survival games, and monster games within the eerily familiar scenario of our current global health crisis.
This adrenaline-pumping game is no mere addition to the plethora of scary games on offer; players will be drawn into an intense battle against virus mutations. With 4 diverse game modes - Kill, Night Kill, Find Artifacts, and Survival - you'll never experience a dull moment.
The initial game mode, Kill, commences with a simple yet compelling objective: annihilate all virus mutations. The challenges escalate as you dive into Night Kill mode where your shooting skills are tested in limited visibility conditions. Adrenaline courses through your veins as every shadow could be an enemy.
Find Artifacts, is a thrilling scavenger hunt introducing elements of mystery to this nerve-wracking survival game. The task? Locate and secure crucial items while staying alive amidst constantly evolving viral threats.
The last challenge is indeed the toughest - Survival. All those long nights spent playing other survival games will payoff as you combine instinct and skill to outlive your monstrous adversaries.
In summary, Masked Forces VS Coronavirus delivers more than just an ordinary shooting game experience; it adds an unnerving layer of realism to the traditional gun and monster gameplay mechanics. This clever blend makes it one of the most entertaining yet eerie additions to any gamer's library who enjoys being on edge while testing their survival instincts! You need more than just mask and sanitizer here – load up your arsenal and let's fight back!
What are the best online games?