Galaxy Attack: Alien Shooter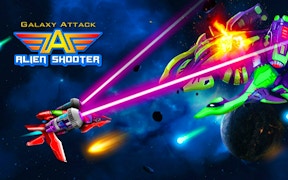 Galaxy Attack: Alien Shooter
Immerse yourself into the enthralling universe of Galaxy Attack: Alien Shooter, a cosmic oeuvre where you become Earth's last hope against the onslaught of hostile extraterrestrial creatures. This game deftly merges the elements of monster games, battle games, airplane games, and flying games into a single entity of electric gaming experience.
The universe is under attack. Handfuls, no - armies of alien invaders are converging on your position. It's time to engage them in true battle games style. The stellar particle effects, coupled with nerve-racking sound effects, weave an atmosphere so tense it would make the bravest warriors tremble.
Unlike most other monster games, in Galaxy Attack: Alien Shooter, the monsters aren't just lurking in corners or closets. They're right in front of you, in all their grotesque horror, challenging you to a duel to the death in an interstellar battlefield.
This game is a veritable treat for fans of both airplane games and flying games. With each level up, your aircraft transforms providing playthrough diversity and tactical depth unseen in other battle games. The seamless controls ensure that you're always at the helm of your spaceship, fully equipped to take on the terror from outer space.
In conclusion, Galaxy Attack: Alien Shooter is not just another game in an ocean full of similar offerings. It breaks through the constraints of its genre to offer an amalgamated gaming experience that will have you hooked for hours on end. So strap up and lift-off into an intergalactic adventure with this versatile monster-battle-airplane-flying game!
What are the best online games?