Droid-O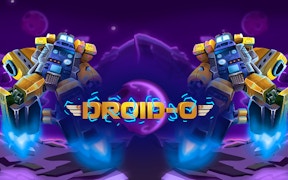 Droid-O
Are you tired of boring flying games with no real action or story? Step right into the adrenaline-packed world of Droid-O, a thrilling concoction of robot games, airplane games, and compelling battle games. With extraterrestrial entities threatening to conquer Earth, the fate of our planet rests in your hands.
As a brave spaceship captain, you stand as the last beacon of hope against an alien onslaught. These aren't just any aliens; they're a constantly evolving swarm that intensifies with each level. This feature creates an atmosphere reminiscent of classic monster games, where unyielding adversaries imbue the gameplay with relentless excitement.
The control scheme for Droid-O is masterfully done, offering intuitive and fluid movement as you pilot your spaceship across the cosmic battlefield. Dragging your ship left and right has never felt smoother, allowing you to focus on eliminating enemies rather than wrestling with clunky controls.
Droid-O ingeniously implements upgrade mechanics to keep the action fresh. You will collect various powers such as cannons, shields, and rockets throughout your journey. These upgrades add depth and strategic layers to the game, incessantly pushing you to adapt and optimize your gameplay tactics.
However, don't let this power make you complacent! The game's punishing difficulty curve is another standout feature. With only three lives at your disposal, Droid-O demands strategy, skill, and quick reflexes — a true testament to its roots in hardcore battle games.
Saving Earth from imminent danger has never been more thrilling in this amalgamation of the best aspects of robot games, airplane games, and monster games. Are you ready to cement your legacy as Earth's greatest spaceship captain? Dive into the exhilarating world of Droid-O today!
What are the best online games?