Zombie Survival Game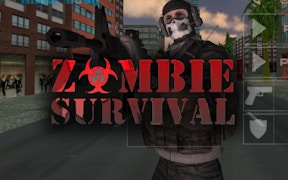 Zombie Survival Game
In the chaotic world of zombie games, the Zombie Survival Game rises as a beacon of chilling thrill and adrenaline-pumping action. This game bridges the gap between gun games and survival games, pushing you to your limits as you wrestle with the desperate reality of a post-apocalyptic world.
The storyline is as gripping as they come - you are the last standing survivor in your group, stuck in an earth overrun by the undead. You know your time is limited, but how long can you hold out? The question isn't if you'll fall, but rather when. And it's this ticking time bomb that propels every step, every shot, every heart-racing moment in this incredible game.
From a gameplay perspective, Zombie Survival leans more towards shooter survival rather than passive stealth. This isn't just macho bravado; it's survival instinct at its finest. The game gives you an arsenal to select from and challenges you to take on four types of ghastly zombies. Each type requires a different strategy, keeping you on your toes at all times.
Akin to exhilarating running games, there's a constant forward momentum in Zombie Survival Game that hooks you in immediately. Every step forward becomes a victory in itself, every new location a potential sanctuary or deathtrap.
In conclusion, Zombie Survival Game is relentlessly terrifying yet undeniably addictive. It pushes the boundaries of what we've come to expect from zombie games and survival games alike. If shooting zombies to survive the apocalypse sounds like your kind of thrill - buckle up for one hell of a ride! This is not just another game; it's a surreal experience that will keep your fingers twitching over those controls!
The Dead Walking zombies are coming...how long can you survive?
What are the best online games?