Vex 4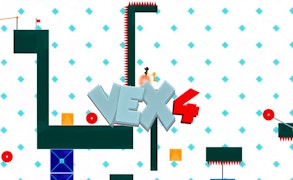 Vex 4
In some ways, the stickman is a tragic figure with no more than an identity based on their appearance which is why you want to help one in Vex 4. The series maintains a tradition of putting the stickman into a white void that is filled with very simple structures and tons of traps throughout. Thankfully, this stickman is quite athletic and has all the skills and strength to get out alive. However, they're relying on you to get them out safely which is possible by using timing and guidance. It's a dangerous place, but together, the two of you will be able to escape and find new life.
About Vex 4
It takes a lot to keep a series going, but the trip is to maintain the core of the original as you continue to add new chapters to the story. This entry in the Vex series is just as vexing but valid as the others. The core remains unchanged but the world surrounding it has expanded to include new layouts and patterns for you to master. It can be frustrating to fail at the same spot over and over again, but all the tools and skills you need to succeed are there. You just need to use them.
How to Play
Vex 4 is a 2D platforming game controlled entirely by the keyboard and has two ways to move the main character.
Controls
W/Up Arrow - Climb Up
S/Down Arrow - Duck/Slide/Enter Level
A/Left Arrow - Move Left
D/Right Arrow - Move Right
Mouse Cursor (stand still) - Look Around
Swimming
W/Up Arrow - Swim Forward
S/Down Arrow - Swim Backward
A and D/Left and Right Arrow - Change Direction
The goal of the game is to help the stickman get to the end of a hub world full of traps. In order to do this, you need to clear the way by completing levels or "Acts" to remove the hazards and obstacles throughout. Each Act is a contained obstacle course that challenges you to get to the green portal at the end. You can make steady progress by reaching red checkpoint flags. Unfortunately, the stickman is very frail, and the slightest touch from any hazard results in instant death. Be wary of tight spaces as you make your way forward. For an additional challenge, you can try to get all of the stars scattered throughout the Acts.

Tips and Tricks
Be very wary of the kinds of traps around each Act by taking time to survey your surroundings. Turrets can be particularly dangerous because they track your movement. Be sure to practice wall-jumping and make use of edge climbing and wall-sliding to navigate and control your jumps more.

Game Details
Developer: Agame
Platforms: Web Browser (PC and mobile)
Languages: English
Gameplay Footage
FAQs
Is the Vex series ending?
Vex 4 is actually in the middle of the series with the latest one being Vex 7 that came out late 2022. It's possible that the creator is currently working on Vex 8, but provided Vex Challenges earlier in 2023.
Games similar to Vex 4
With these aesthetics and mechanics, you can find the game in the Stickman and Escape Games categories on GamePix. It's part of a series that includes Vex, Vex 3, Vex 5, and Vex 6.
Vex 4 belongs to Action and it is often associated with Escape Games and Stickman Games. This game has received 4804 votes, 4243 positive ones and 561 negative ones and has an average score of 4.4.
It is a game played in landscape and it's playable on Desktop and Mobile on gamepix.com. This game has been published on 2019-12-22, and updated on 2020-06-25.
What are the best online games?