Idle Mining Empire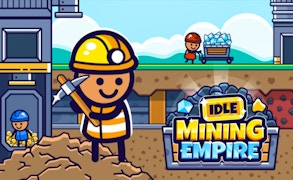 Idle Mining Empire
Unleash the tycoon within you in the enthralling world of Idle Mining Empire, a game that seamlessly merges the thrill of action with the strategic intricacies of management games. It is no ordinary clicker game. Rather, it is an engaging blend of clicker, tap, idle and mining games that keeps you at the edge of your seat whilst testing your managerial abilities.
Spearhead an underground revolution as you tap into your miners to commence their digging expedition. Add a layer of immersive gameplay, as you transport ore to ground level using an interactive elevator system. The core experience of this remarkable addition to tap games lies in its deceptively simple, yet intensely strategic operations. To top it all off, profit-making becomes part of the fun as you transport the ore to your warehouse and watch your coffers swell.
The driving force behind Idle Mining Empire's addictive gameplay is its upgrade system. Use hard-earned coins to enhance your mine shaft, elevator, and warehouse - three key areas that directly impact your financial success in this standout amongst idle games. But that's not all! The game loops you into a deeper level of engagement by offering a chance to automate tasks. With seasoned managers at each facility, even when you're idle, your empire will continue to flourish.
In conclusion, if you enjoy a game that combines elements from various genres like tap, clicker and mining games into one compelling package while keeping you on a constant learning curve of managing resources efficiently – then Idle Mining Empire is the golden nugget amongst management games for you. Enjoy hours upon hours of gratifying gaming experience with this vibrant interplay of action-packed mining and strategic management!
What are the best online games?