Merge Cannon: Chicken Defense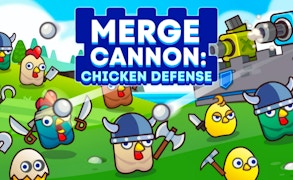 Merge Cannon: Chicken Defense
Step into the exhilarating world of Merge Cannon: Chicken Defense, a battle-charged adventure where gaming meets poultry in an extraordinary, compelling synergy. This action-packed concoction of merge and defense genres, tops the chart among battle games with its unique integration of feathery foes and an indomitable fortress awaiting to be defended.
In the vast realm of animal games, Merge Cannon: Chicken Defense sets itself apart by utilizing chickens not as docile farmyard creatures but as an aggressive army, hell-bent on besieging your castle. As waves upon waves of these hard-boiled hens march towards your haven, the only thing standing between them and total domination is your knack for strategy and precision - making it a leading contender among skill games.
The game gives you a tactical edge with its innovative merge mechanics. You can combine cannons to create more powerful armaments, providing a dynamic gaming experience that keeps you on your toes at every turn. The ability to upgrade your castle further contributes to the strategic depth of Merge Cannon: Chicken Defense; it dares you to hold your ground against the avian onslaught.
Yet, it's not just all about defense; it's about defying overwhelming odds and emerging victorious. The presence of an end boss chicken adds a thrilling climax to each wave, testing your skills and strategy to their limits.
So are you ready for this fusion of feathery frenzy? Or will you chicken out from the challenge? Immerse yourself in Merge Cannon: Chicken Defense, where action meets animals in a never-before-seen spectacle! This one-of-a-kind game promises hours of nail-biting fun that will keep you coming back for more!
What are the best online games?