Funny Battle Simulator 2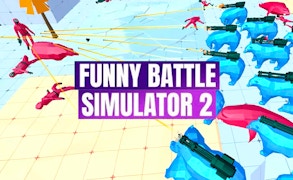 Funny Battle Simulator 2
Immerse yourself in the riveting world of Funny Battle Simulator 2, a game that straddles the lines of war games, battle games, knight games, archery games, simulator games, and gun games. This action-packed adventure plunges you into a battlefield brimming with chaos and excitement as you take on the role of a commanding army general.
This isn't your typical warfare scenario. Yes, you do take command over horsemen and infantry but there's so much more! Ever fancied sending kamikaze soldiers with bombs sprinting towards the enemy lines? Or perhaps watch as a bear - yes, an actual bear - armed with a minigun showers bullets on your opponents? If that's not enough to whet your appetite for destruction, you can even summon shark riders to attack your foes or control a massive elephant to crush them underfoot. This ain't cozily sitting back playing ordinary knight games; this is war!
However, it's not all about raw strength; mindless violence won't win you the war. Funny Battle Simulator 2 demands cunning strategy and thoughtful tactics from its players. Maneuvering around the map's varying landscapes and utilizing each unit's unique abilities is just as important as having firepower at hand.
If you believe that you can weave your strategies flawlessly across ever-changing landscapes in one of the best battle games out there – show it! Prove to the world that you are indeed the best general out there in this enthralling blend of archery games, simulator games, and so much more.
In conclusion, Funny Battle Simulator 2 is an adrenaline-pumping joyride that is sure to appeal to every fan of compelling storytelling, spectacular graphics, and relentless action.
What are the best online games?