Vex 3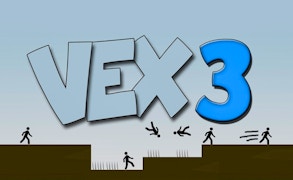 Vex 3
Stick figures have appeared in all sorts of games but fit pretty nicely in the simplicity of the platforming genre with titles like Vex 3. Whether or not you find this game vexing is up to you, but things are pretty straightforward. You are a sick figure stuck in a strange world filled with various obstacle courses. The best you can do is try to get through all the obstacles and reach the goal at the end in order to survive. It tests your timing, navigation, and patience as levels get longer and more dangerous as the hub world changes to match.
About Vex 3
Platforming games may not be as popular as they once were, but they can appeal to any kind of player. That's because with a game like this one, you can see and feel the difficulty that lies ahead of you and it becomes a test of skill. It's very generous with checkpoints and a view that shows you a huge chunk of each level so you can brace yourself for what's to come. There are also a lot of empty spaces where you can practice movement and jumping. It's a game that expects you to make a lot of mistakes and there's no shame in doing so.
How to Play
Vex 3 is a 2D platform game played entirely with the keyboard that offers two different control schemes.
Controls
W/Up Arrow - Jump
S/Down Arrow - Duck/Slide/Enter Level
A/Left Arrow - Move Left
D/Right Arrow - Move Right
While Swimming
W/Up Arrow - Swim Forward
S/Down Arrow - Swim Backward
A/Left Arrow and D/Right Arrow - Change Direction

The whole goal of the game is the reach the end of each level (called "Acts") in order to progress through the hub world. You start with only access to the first level and once it's completed, the way to the next level will be unlocked. However, the hub world is also filled with obstacles and hazards that you need to navigate.

Levels can be quite long with various layouts. Though each level will contain different dangers and elements, there are some you will frequently encounter. Common hazards include spikes, buzzsaws, and projectiles. Contact with any hazard results in instant death. You can make progress by following and reaching checkpoints, marked by red flags.

You'll also need to master certain game mechanics in order to progress. The most notable is wall-jumping which requires quick acting. In addition, there are objects that you need to use in conjunction with your movements. The most common are blue platforms that fall and orange platforms that bounce you up. There's also a fair number of swing points and ice to increase your sliding movement. You have infinite lives, so make as many attempts as you want with stars hidden around the levels for you to collect as an additional challenge.
Tips and Tricks
This game is meant to be played in a calm mindset or you'll end up making silly mistakes. Take time to practice wall-jumping since it can be tricky to master using the keyboard. Take time to survey the level carefully so that you'll be ready for what's to come.
Game Details
Developer: Amazing Adam
Platforms: Web Browser (PC and mobile) and iOS
Languages: English, Spanish, French, German, Italian, Portuguese, Arabic, Turkish, Indonesian, Japanese, Dutch, and Russian.
Gameplay Footage
FAQs
When did Vex 3 release?
This game was released almost 10 years ago, coming out in August 2014.
How many games are in the Vex series?
There are quite a number of these platforming titles, reaching up to Vex 7.
Games similar to Vex 3
Considering what you're trying to do in this game, you can find it in the Escape and Stickman Games categories on GamePix. Also in these sections are the titles Parkour Game, Stealth Hunter, Gang Fall Party, and Drunken Boxing 2.
What are the best online games?