Tanks 2D: Tank Wars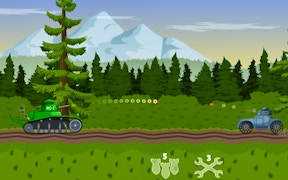 Tanks 2D: Tank Wars
Indulge in a world of relentless warfare with Tanks 2D: Tank Wars, a shining gem among tank games and war games that promises an unforgettable thrill. This captivating battle saga is also a remarkable treat for those who are passionate about gun games, making it the ultimate crossroad of strategy, dexterity, and sheer willpower.
Your mission begins with a simple objective: Destroy enemy tanks and equipment. It's survival of the fittest, true to its reputation as one of the most engaging survival games. But make no mistake - Tanks 2D: Tank Wars is more than just a game of survival; it's a test of strategy and ingenuity as you are tasked with managing your resources effectively to upgrade weapons, buy, and upgrade new tanks.
The game offers an impressive arsenal of powerful tanks from the MS-1, BT-2, T-60, T-127 to the fearsome T-34, KV-2, KV-3, IS-2. The thrill intensifies as you face off against boss tanks that require more than just firepower to take down.
A unique feature in Tanks 2D: Tank Wars is its utilization of airstrikes and air support - an exciting addition that heightens the tactical depth required to win the tank war.
In conclusion, Tanks 2D: Tank Wars breaks new ground among tank games, battle games, and survival games. If you're looking for a challenging war game where strategy meets action-packed combat, then look no further. Prepare your battle plan, position your tanks and bring your A-game - victory waits for no one in the intense battlefield that is Tanks 2D: Tank Wars!
What are the best online games?