Tank Wars Game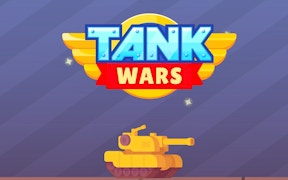 Tank Wars Game
If you've got a fiery passion for tank games, fierce battle games, challenging survival games and engaging 2 player games, then brace yourself for the artillery-laden, war-themed spectacle that is - Tank Wars Game.
In this adrenaline-pumping game, the rules are as clear as a polished artillery shell. You take control of your very own iron beast, a powerful battle tank, and choose your weapon type to fire crushing projectiles at your enemy. The name of the game? Land that shot. One well-aimed shot can send your opponent's tank up in smoky oblivion.
It's a shooter that takes no prisoners but demands precision. Carefully aim down the sight and launch your payload, making every shell count while navigating through treacherous battlefield terrain. It requires not just trigger-happy fingers, but strategic planning and steady hand-eye coordination. As such, it wouldn't be far-fetched to label Tank Wars as an enjoyable addition to the roster of Skill Games.
One of the standout features in Tank Wars is its exciting 2 player mode. This adds another layer of competitive fun and strategy to an already thrilling game. Play head-to-head against a friend or sibling, testing the limits of your camaraderie and survival instincts.
Tank Wars Game fuses classic arcade gameplay with modern graphics and sound effects creating an immersive war experience that will appeal to fans of tactical battles and explosive action alike. Whether you're a seasoned gamer or just looking for a fun way to blow off steam, this game meets all expectations.
In conclusion, Tank Wars Game is not merely about survival; it's about mastery over raw power & strategizing under pressure - all features that make it one hell of a ride! Engage today with one of the most electrifying tank games around!
What are the best online games?