Super Villainy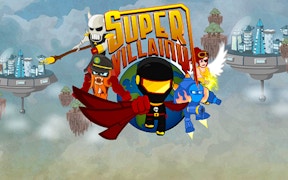 Super Villainy
Unleash your inner villain with Super Villainy, the latest addition in the universe of intense shooting games. This game serves up a captivating blend of battle games, monster games, and unrivaled war games experience that plunges you into an adrenaline-pumping, villainous adventure.
Distinguished as one of the most engaging flying games out there, Super Villainy defies gravity and takes warfare to soaring new heights. Jump into this world of chaos and show who's top dog by launching carnage from above on your adversaries. The sky is definitely not the limit here.
The game's mechanics revolve around upgrading your arsenal and equipping an array of destructive weapons, making it a cut above other gun games. The range of options to customize your artillery are extensive, allowing you to craft the perfect tool for any situation. Furthermore, it introduces a unique twist with its turrets and minions system - giving you more firepower and strategy options.
The essence of battle royale is captured perfectly in Super Villainy. Amidst epic landscapes and challenging terrains, strategic planning meets high-velocity action as players face off in relentless fights for supremacy. Drawing inspiration from classics in the genre, this game enhances the sense of competitiveness while maintaining a delightfully wicked charm reserved for villains.
An immersive experience awaits the fearless gamer ready to take on this monstrous journey. Super Villainy will undoubtedly grip those seeking an explosive blend of flying adventures and gun battles. Prepare yourself to wrestle with fiendish monsters and formidable enemies as you claim victory in this villainous war game!
What are the best online games?