Stumble Boys Match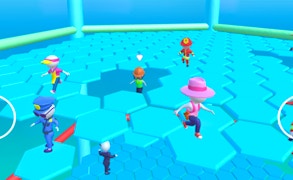 Stumble Boys Match
Step into the world of action, thrill, and endless entertainment with Stumble Boys Match. One of the most captivating battle games you'll ever come across, it takes the classic elements of stickman games and elevates them to a whole new level of excitement.
This electrifying game brings to life the ultimate survival of the fittest in a competitive arena packed with diverse playing methods. Uniquely designed for those who crave an adrenaline rush, Stumble Boys Match blends elements from various genres such as running games, survival games, and escape games.
The exhilarating rush you'll feel as you eliminate player after player is truly unparalleled. Fail to meet the standards at your own peril – only the quickest and smartest will survive in this cut-throat competition. As you race through different rounds, each with their unique challenges, your goal becomes clear: to be the last one standing.
In Stumble Boys Match, every match is more than just a game - it's a test of survival instincts and strategic thinking. The high-octane pace will keep you on your toes, while the unpredictable turns and mind-boggling obstacles call for quick decision making and dexterity.
If exhilaration is what you seek, then look no further than this masterfully crafted video game. Immerse yourself in action-packed gameplay where survival means everything, and only the swiftest escape the arena unharmed. So strap yourself in for a rollercoaster ride of adventure and thrill with Stumble Guys Match – an action-filled stickman game that defines edge-of-the-seat gameplay!
What are the best online games?