Stickman Armed Assassin: Cold Space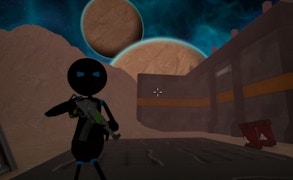 Stickman Armed Assassin: Cold Space
Dive into the thrilling universe of Stickman Armed Assassin: Cold Space, an exhilarating blend of stickman games, gun games, sniper games and survival games. Experience the heart-pounding sensation of action and adventure as you navigate through a perilous space base on a remote planet, inhabited by deadly foes armed with potent weapons.
In this unrivaled shooting and action game, you assume the role of an elite agent known as the Stickman Assassin, codename: S-BE05. You're the last resort when corporate battles escalate beyond control and law enforcement isn't an option.
The narrative is gripping; a rebellion on Planet NV-2507, a secret biological weapon is in play and security personnel have gone rogue - planning to sell off the bioweapon to the highest bidder. The stakes couldn't get higher!
In this fiercely competitive survival game hosted on kiz10.com, your mission is crystal clear. Infiltrate the base, free the hostages, recover the deadly bioweapon and extract vital data from experiments before making your strategic exit from the volatile planet.
Throughout this intense journey, you'll face relentless enemies that push you to your limits but remember – you are not just any stickman, you are the Stickman Assassin – skilled and unstoppable.
Play Stickman Armed Assassin: Cold Space for free alongside many other captivating stickman games on kiz10.com. Embrace this frenetic whirlwind of gunfire and strategy where every decision could be your last.
Stickman Armed Assassin: Cold Space takes gun games to a whole new level with its engaging storytelling, nerve-wracking missions, and high-octane actions. Sign up now and become part of an unforgettable intergalactic adventure!
What are the best online games?