Squid Mission Hunter Online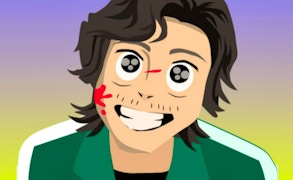 Squid Mission Hunter Online
Immerse yourself in the chilling world of Squid Mission Hunter Online, an adrenaline pumping shooting game that's quickly rising as one of the best running games to hit the internet. As one of the escapees from the infamous Squid Game, survival is your ultimate goal in this deceptively immersive game.
Dive into a dark escape mission, loaded with heart-thumping suspense and thrill. Grenades, machine guns, snipers—these are your lifelines; tools of survival in this eerie survival-game world. It's thrilling, it's intense—it's a heady mix of running games and gun games.
Based on the hit TV series Squid Games, Squid Mission Hunter Online does a commendable job recreating that same sense of impending doom, seen through its stealthy gameplay and intricate design elements. The fear is real as you roam around locked on an island with no way out.
From its haunting narrative to its cleverly designed levels, everything about Squid Mission Hunter Online screams quality. It captures perfectly the desperation of wanting to survive against incredible odds—a feeling that fans of survival games will surely appreciate.
Whether it's the prowess of a sniper or the daring quick moves you'd expect from running games, you will need all your skills here as every moment could be your last. Equipped with an intuitive interface and stunning graphics, Squid Mission Hunter Online is also accessible to all gamers regardless their level of expertise in sniper games or gun games.
In conclusion, Squid Mission Hunter Online is a refreshingly formidable contender in the realm of online shooting games, aptly blending elements from running games and survival games. A test of courage and wit under constant threat; it's certainly a must-play for anyone seeking excitement with every tap or click. Visit kiz10.com now to experience an exhilarating fight for survival that only Squid Mission Hunter Online can deliver!
What are the best online games?