Spect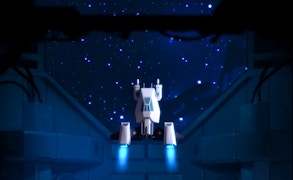 Spect
Prepare yourself to embark on an exhilarating journey through the cosmos with SPECT, a tantalizing blend of survival and flying games genres wrapped in an addictive 2D space shooter package. This is not your ordinary shooting game; SPECT offers an incredibly challenging experience that will test your survival instincts and piloting skills in the infinite expanse of space.
Spect sets itself apart from the conventional arcade shooters, seamlessly blending elements of survival games; you'll find yourself dodging inbound asteroids, battling intergalactic foes, and managing resources, all while navigating through uncharted territories. But the true hallmark of SPECT is its flying mechanics. Coupled with its graphically rich 2D environment, the game's smooth, responsive controls make piloting your spacecraft a uniquely immersive experience.
The distinction between SPECT and other simplistic shooting titles lies within its dynamic gameplay rooted in strategic decision making. It's more than just hitting your targets - it's also about choosing when to engage and when to evade, making it a standout in the survival games category.
SPECT strikes a balance between action-packed sequences and contemplative exploration. Its breathtaking backdrops serve as a stark contrast to the intense battles, making this fusion of survival and flying games a must-play for any seasoned gamer up for a challenge.
In conclusion, Spect is a multilayered space shooter that goes beyond mindless target hitting. With its incorporation of survival elements and intuitive flying controls, it provides both novice and expert gamers with gripping gameplay that remains fresh after countless hours. Don't miss out on this distinctive blend of genres - buckle up and take flight with SPECT today!
What are the best online games?