Space Invaders Remake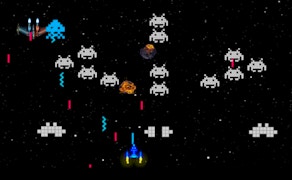 Space Invaders Remake
Get ready to strap yourself in, aim for the stars, and blast pixel monsters out of the stratosphere with Space Invaders Remake, one of the most engaging airplane and flying games available online.
For those of you with an insatiable thirst for nostalgia and a love for classic arcade games, prepare to be delightfully immersed in this unique blend of old school cool mixed with a splash of modern graphics and gameplay. This isn't just one of those run-of-the-mill pixel games. It's the kind that connects you to the golden age of gaming while keeping you firmly grounded with its exciting dynamics.
The game masterfully awakens fun memories as it transports us back to the thrilling days of 8-bit graphics, while simultaneously knocking our socks off with its intense shooter action. You'll find yourself battling wave after wave of relentless invaders - truly captivating for any avid fans of battle games.
Moreover, if you're after variety and a sense of progression, Space Invaders Remake doesn't disappoint. With countless waves and increasingly challenging levels, it's not just about shooting everything that moves - it's about strategy, precision, and knowing when to retreat back to your base.
The unique charm lay in its simplicity yet compelling gameplay that hooks gamers right from the first wave. The sound effects are authentic and reminiscent of classic arcade sounds; they resonate well with the game's theme and contribute significantly towards creating an immersive gaming experience!
In terms of visuals, while it remains true to original pixel graphics style characteristic for such monster games – it brings an overall fresh look enhancing details and animations.
The Space Invaders Remake offers a thrilling ride filled with nostalgia, excitement, and challenge that no fan of shooting or flying games should miss out on!
What are the best online games?