Slendrina Must Die: The Forest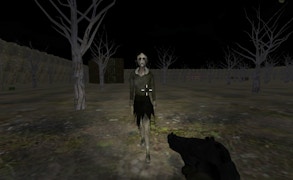 Slendrina Must Die: The Forest
When it comes to heart-pounding gun games and nerve-wrenching survival games, nothing comes close to the immersive world of "Slendrina Must Die: The Forest". Classic elements are elegantly blended from granny games, horror games, and scary games to offer an adrenaline-rushing experience like no other.
The game's narrative plunges you deep within a mysterious forest with a grotesque secret. Your mission? Find the seven keys required to unveil the dark truth. But beware, Slendrina, her mother, and child aren't about to let this secret slip away without a fight. They guard their secrets as fiercely as a lioness protects her cubs.
The engaging gameplay is synonymous with acclaimed Poison Games; plain sailing controls packed into an arresting 3D graphical interface that brings every gruesome detail to life. It's no stroll through the park; it's survival laced with terror and punctuated by the fierce crackle of gunfire.
"Slendrina Must Die: The Forest" takes gun games to an unprecedented level with a robust firearm system. The player has five potent weapons at their disposal - Brass Knuckles for when things get up close & personal, M9 Handgun for quick firefights, Shotgun for maximum damage in close quarters, RPK Light Machine Gun for mowing down hordes of enemies, and M67 Frag Grenade for those desperate times when everything else fails.
This game is not for the faint-hearted; it's a relentless assault on your senses designed to keep your blood pumping. Dare you enter Slendrina's dark and twisted world in this ultimate horror survival game?
What are the best online games?