Slendrina Must Die: The Asylum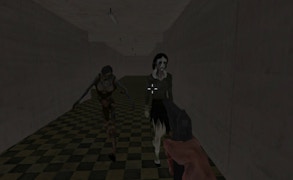 Slendrina Must Die: The Asylum
If you're a thrill-seeker with a penchant for horror games and survival games, then brace yourself for a terrifying journey with 'Slendrina Must Die: The Asylum'. This game is a captivating cocktail of suspense and horror, where the atmosphere is as intense as the action. It undeniably falls under the niche of scary games and gun games, making it an exhilarating playing experience for enthusiasts of these realms.
As the title suggests, this new chapter brings you to an abandoned asylum that is anything but barren. Every corner of this gloomy establishment conceals a dreadful secret, and only by finding 8 Old Medical Books can you unravel this chilling mystery. The game takes on the eerie aura associated with granny games, turning it up several notches for heightened suspense.
The incredibly hostile Slendrina is on the prowl, more furious than ever before, demanding players to raise their guard, heightening the stakes of this terrifying survival quest. But caution! You're not just against one enemy; Slendrina's Mother, an old evil witch, lurks in the shadows too. Sink into her deceptive tranquillity at your peril!
'Slendrina Must Die: The Asylum' presents you with three weapons - a Gun, MP5, and Shotgun - that are your only security against these nefarious fiends. Specially crafted sound effects and visuals contribute to creating an atmosphere that pulls no punches in delivering petrifying adrenaline-fueled moments at every turn.
In conclusion, 'Slendrina Must Die: The Asylum' delivers an immersive horror experience with its intricate storyline, terrifying antagonists, and high-stakes survival challenges. So get ready to indulge in one heck of a scary gaming spree!
What are the best online games?