Slenderman vs Freddy The Fazbear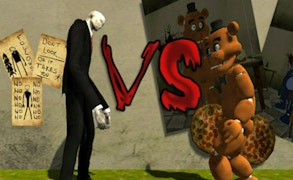 Slenderman vs Freddy The Fazbear
Are you a lover of gun games, horror games, and scary games? Slenderman vs Freddy The Fazbear is the perfect mix of action, horror, and suspense that will keep your heartbeat racing with its unique blend of survival games and escape games.
The plot is fascinatingly entwined providing an intriguing story for both Slenderman and Freddy The Fazbear. As Slenderman your fame is on a downward spiral since Freddy The Fazbear appeared. Your mission? Retrieve 8 pizzas, eliminate Freddy and his Animatronics, reclaim your glory. Parallelly as Freddy, you have to put an end to Slenderman's rise again. Find 8 Pages, vanquish Slenderman and restore your renown. It's survival of the scariest here!
The game also boasts of a third-person perspective, putting you right in the middle of all the action. The thrill of playing as either Slenderman or Freddy and the ensuing challenging tasks makes this game irresistible.
The game scores high on user experience with its smooth controls. Whether it's running through the eerie environs or engaging in a thrilling face-off against your enemy, every move is seamless and intuitive.
The quality of graphics stand out in this game; these are not just any 3D graphics but high-definition ones that add to the spookiness of the environment while enhancing your gaming experience. The application of a high-scale map filled with elements of horror and action only adds to its appeal.
Crisp gameplay and stunning visuals make 'Slenderman vs Freddy The Fazbear' an unforgettable journey into the world of horror-genre gaming.
This isn't just a game; it's a spine-chilling escapade that tests your survival instincts at every turn. Dare to play?
What are the best online games?