Slenderman Must Die: Industrial Waste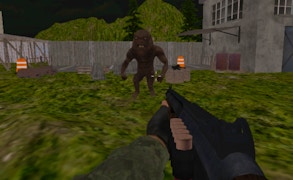 Slenderman Must Die: Industrial Waste
Today, we plunge into the harrowing world of Slenderman Must Die: Industrial Waste, a nerve-wracking convergence of gun games, survival games and monster games. This shooter game is not for the faint-hearted, immersing players in an adrenaline-filled epic saga of survival, horror and ceaseless action.
This ominous odyssey combines elements from both zombie games and horror games, providing all thrill-seekers an awe-inspiring combination. Your task as a brave soldier lost amidst unnatural terror is uniquely dreadful yet bewitchingly captivating. The uncanny Industrial Area you navigate presents an eerie atmosphere that one comes to expect from top-notch scary games.
You are tasked with finding 9 elusive notes amidst the shadows, with the unnerving presence of Slenderman ever poised to strike terror into your heart. This quest crafts an atmosphere that compels gamers to feel constantly on edge, heightening the survival aspect associated with top-tier survival games.
Each gunshot in this ghostly environment echoes like a death knell, often being the only sound breaking the unbearable silence. That's why it's not just about shooter experience; it's about mastering your fears, making it stand out among other sniper games.
In conclusion, Slenderman Must Die: Industrial Waste masters the gruesome art of blending fear and excitement into one relentless roller coaster ride. It succeeds in providing a bone-chilling player experience that will keep you coming back for more - proving its worth among other horror and monster games. Enter this ghastly world if you dare; just remember - survival remains paramount!
What are the best online games?