Skibidi Survival Challenge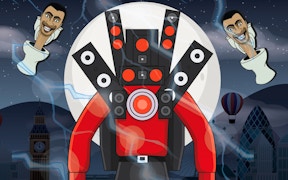 Skibidi Survival Challenge
Description
Skibidi Survival Challenge is a captivating, adrenaline-pumping roadrunner game that never ends. Your Skibidi dancer is always on the move, evading obstacles and gathering coins on a relentless road. The name of the game is survival - the longer you last, the higher your score will be. However, one misstep could mean the end of your run. Be keen to navigate obstacles or risk falling off the road.
How to Play
The controls are simple but mastering them takes time. You can control your Skibidi dancer by swiping left or right on your screen to move accordingly and dodge any oncoming obstacles. Tapping your screen will make your character jump in order to avoid any low-lying barriers. Your aim should be collecting coins for extra points and running for as long as possible without hitting an obstacle or falling off.
Tips and Tricks
A strategy that works for most players is focusing more on surviving than coin collecting. Prioritize maneuvering around obstacles over amassing coins especially when situations get too dicey. Also, try to memorize common patterns in the game's obstacle sequence – this can give you a significant advantage.
Features
Addictive Gameplay: The fast-paced nature provides an exhilarating experience.
Easy Controls: Simple swipe and tap controls to move and jump respectively.
Coin Collection: Gather coins scattered along the road for bonus points.
Infinite Runner: The game does not have a set endpoint – it continues until an obstacle is hit or if you fall off the road.
What are the best online games?