Siren Apocalyptic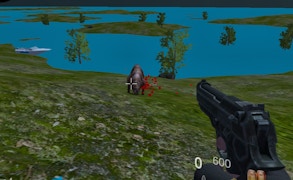 Siren Apocalyptic
Step into the world of Siren Apocalyptic, a chilling foray into the realms of horror games and survival games. This isn't just one of your run-of-the-mill gun games. It is a masterfully crafted tale about survival, fear, and the uncanny.
The setting is immersive and eerie: a radiation-infested island teeming with all sorts of terrifying monsters. Unlike conventional monster games, Siren Apocalyptic weaves a horrifying lore around the menacing main antagonist – the Siren Apocalyptic herself. With her nightmare-inducing sirens in place of a head, she instills an overwhelming fear that only the best horror games can provide.
In terms of gameplay, Siren Apocalyptic isn't just about trigger-happy antics typical in some gun games. It offers strategic play where your character must install surveillance cameras on the monster-infested island. These gameplay dynamics make it one of the stand-out titles in both horror and survival games.
This game perfectly straddles the line between scary games and shooter epics. The adrenaline-fueled battles against gruesome creatures are backed up by an atmosphere so thick with tension, you could cut it with a knife.
In conclusion, Siren Apocalyptic is more than just another addition to your collection of gun or monster games. It's an intense journey that will keep you on your toes as you uncover its dark secrets and face-up against its spine-chilling creatures. If you're after something that combines thrilling gameplay with genuine scares, this is one game that is sure to deliver.
What are the best online games?