Siberian Strike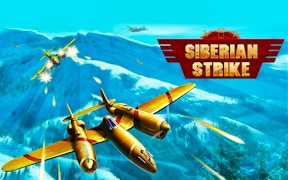 Siberian Strike
Immerse yourself in the frosty thrill of Siberian Strike, an adrenaline-fueled addition to the realm of airplane games that takes you high above the icy landscapes of Siberia. With its retro style and thrilling aerial combat, Siberian Strike is a fresh gust of cool air for fans of gun games and battle games.
The game effortlessly combines elements of both survival games and aviation action, pushing your skills to the limit as you navigate treacherous skies in your combat-ready aircraft. Prepare to face not just the harsh conditions but also massive boss enemies that make every encounter a matter of life or death.
In Siberian Strike, no flight is ever the same. The game's dynamic weather system keeps you on your toes while the stunningly rendered Siberian expanse forms a dazzling backdrop for your high-stakes dogfights. With every battle won, you'll find cool upgrades that will fortify your aircraft and make you stand tall against even the toughest foes.
The real challenge of Siberian Strike lies in its demanding gameplay mechanics. Unlike many airplane games that offer a more casual approach, this title demands precise controls and quick reflexes. It's a test of both skill and strategy as well-rounded as any battle game, while maintaining the intense action expected from gun games.
In conclusion, whether you're an ace pilot or a newbie looking for an exhilarating ride, Siberian Strike is an engaging addition to your gaming roster. Its blend of survival elements with high-octane aerial combat offers countless hours of excitement that's guaranteed to keep you coming back for more.
What are the best online games?