Scary Ghosts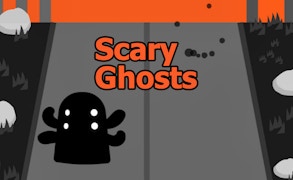 Scary Ghosts
Description
In Scary Ghosts, you're tossed into a world of spectral ghouls and terrifying phantoms. Your objective is to destroy the approaching spirits before they get to you. A thrilling game that will test your reflexes and courage, Scary Ghosts is sure to keep you on your toes with its eerie ambiance and fast-paced action.
How to play
Playing Scary Ghosts is straightforward. To eliminate the ghosts, simply tap on them. Be quick about it - they'll rush towards you relentlessly! But don't worry, the game gives you 3 opportunities. However, once they're all used up, it's game over. The game provides a test of both speed and precision.
Tips and Tricks
In order to survive longer in Scary Ghosts, focusing on your timing is crucial. Avoid tapping randomly as it may cost you an opportunity. Identify the faster-moving ghosts first - they pose the most immediate threat!
Features
Fast-paced gameplay: Quick reflexes are required to destroy the ghosts before they reach you.
Spectral enemies: The enemies are spooky ghosts that advance rapidly towards the player.
Lives system: You have 3 chances before it's game over - use them wisely!
Eerie ambiance: The game's atmosphere enhances the scariness of your ghostly adversaries.
What are the best online games?