Rescue Princess Game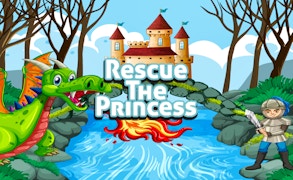 Rescue Princess Game
Description
Enter a realm of high-stakes adventure in Rescue Princess Game. The game immerses you in a gripping quest to save a royal damsel from the grip of malevolent forces. Armed with your wits, conquer mind-bending puzzles set across treacherous landscapes. With the sands of time running out, your skills, patience and strategy will be put to the ultimate test. Can you brave this perilous journey and reach the princess?
How to Play
To play Rescue Princess Game, simply use your mouse or touch screen to interact with different elements within each level. Solve cleverly designed puzzles by considering each move carefully before making it. Progress through the levels by completing each puzzle, but remember that time is against you - so think fast, act wisely, and save the princess!
Tips and Tricks
In this game, every move matters! Be sure to plan your strategies wisely. Some puzzles may require more than just one step to solve them. Keep an eye on timer - time runs fast but remember: haste often leads to mistakes!
Features
An engaging storyline filled with suspense and danger.
Detailed graphics that transport you into an immersive fantasy world.
A variety of challenging puzzles that test both speed and intellect.
A progressive difficulty system that constantly keeps you on your toes.
Intuitive controls suitable for all types of players.
What are the best online games?