Real Free Plane Fly Flight Simulator 3D 2020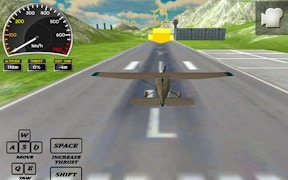 Real Free Plane Fly Flight Simulator 3D 2020
Dive headfirst into the breathtaking world of airborne adventure as we delve into an in-depth review of the Real Free Plane Fly Flight Simulator 3D 2020, an enthralling entrant into action-filled driving and flying games.
This miraculous flight simulator game stands out proudly amongst a sea of airplane games, primarily because it gives you, the player, an opportunity to take the controls of your very own Cessna airplane. It's not just about floating around; it's about the thrill that comes with being responsible for one of the most majestic flying machines ever made.
Buckle up and get ready to take on 20 adrenaline-pumping levels of extreme flight simulation training. Each level is a unique experience that challenges you to start from various airports, build enough speed, and orchestrate a perfect take-off—every detail tailored to deliver an unmatched sensory overload.
What sets Real Free Plane Fly Flight Simulator 3D 2020 apart from other driving games and offroad games is its striking blend of realism and entertainment. The game beautifully takes its rightful place in simulator games. Its high-quality 3D graphics effortlessly immerse players into highly realistic environments that will surely captivate both novice and seasoned gamers.
In conclusion, this game lays out a virtual world where you are not just playing a game but living an experience. Real Free Plane Fly Flight Simulator 3D 2020 is far more than just another addition to airplane games—it's an epitome of immersive gaming wrapped in layers of breathtaking experiences.
What are the best online games?