Poppy Survive Time: Hugie Wugie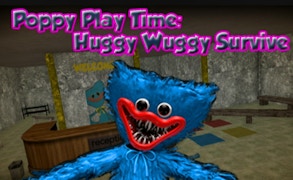 Poppy Survive Time: Hugie Wugie
Welcome to the adrenaline-fueled world of Poppy Survive Time: Hugie Wugie, where thrills and chills meet in a heart-pounding fusion of escape, monster, and survival games. This action-packed game scores high on the list of scary games that will keep you on the edge of your seat, strategically maneuvering through an abandoned toy factory to escape the terrifying Huggy Wuggy. Don't be fooled by his cuddly name; he's a monstrous creature lurking in the shadows.
As a classic among horror games, Poppy Survive Time: Hugie Wugie expertly blends eerie ambiance with challenging gameplay that will leave you breathless. Your objective is simple - find the elusive Poppy Doll tucked away in a myriad of fiendish puzzles and secret compartments. But beware - every noise could lead Huggy Wuggy right to you in this top-tier example of audio-based survival games.
This isn't just an escape game—it's a race against time. You have only five days to accomplish your mission, testing your puzzle-solving skills to their limits. Every item you find brings you one step closer to unlocking the mystery and escaping Huggy Wuggy's chilling grip.
Feeling more valiant? Choose the shooter mode for some gritty gun game action, turning the tables on Huggy Wuggy as you explore dark corners bristling with danger. Whether it's outsmarting or outgunning your giant foe, your survival hinges on careful strategy and quick reflexes.
In essence, Poppy Survive Time: Hugie Wugie is a thrilling addition to any gamer's library who enjoys escaping from monsters as much as they do facing them head-on. This is not just another run-off-the-mill horror game; it's a captivating blend of frightful suspense and pulse-pounding action that makes it stand out in the crowded genre of scary games.
What are the best online games?