Playtime Horror Monster Ground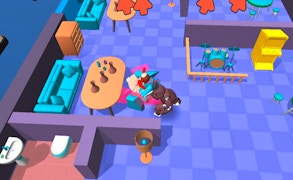 Playtime Horror Monster Ground
Unleash your monstrous side in Playtime Horror Monster Ground, a riveting addition to the array of hunting games, where the tables are thrillingly turned. Leaving behind the usual realm of police games, this game sends you on a blood-pumping chase, not as the prey, but as the predator. Delve deep into frightening and exciting playtime grounds, transforming into your very own horrorsome Animatronic monster.
In a daring twist to standard battle games, Playtime Horror Monster Ground ensures you won't be cowering in fear amidst monster games. Instead, it thrusts you into a chilling world brimming with potential victims hiding and trembling with fear. Your monstrous avatar has one goal: seek and destroy. Find them all and let loose your terrifying power with a satisfying smash.
Developers ingeniously blend elements of strategy into this highly engaging action game by introducing body parts collection. These aren't just your regular horror games or scary games. Here, your victories don't just raise adrenaline levels but also reward you with various body parts. Intelligently accumulate these parts to merge and construct more powerful, more fearsome animatronic monsters.
The real challenge lurks in the shadows however, in the form of powerful police squad bosses. Will your terrifying creation withstand their onslaught? Or will it crumble and return to the darkness? With every battle fought, Playtime Horror Monster Ground offers exhilarating tension unlike any other.
To conclude, Playtime Horror Monster Ground ranks high among hunting and horror-themed action games. It's addictive gameplay combined with its darkly imaginative concept make for an unforgettable gaming experience that dares you to step out of your comfort zone and embrace the horror.
What are the best online games?