Pizza Clicker Tycoon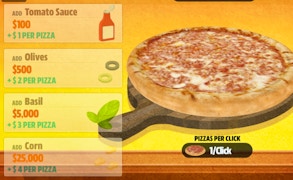 Pizza Clicker Tycoon
Welcome to the fast-paced culinary world of Pizza Clicker Tycoon - a dynamic fusion of clicker games, idle games, and cooking games. This is not your typical action-oriented game where you slay dragons or capture objectives, no - this time around, you're on a mission to build an empire out of dough and cheese.
The mechanics are as simple as maneuvering your digits: click on the pizza and watch your business bloom. The more you click, the more pizzas you produce, and consequently, the larger your empire grows. It's a continuous cycle of tapping into prosperity!
But don't mistake the game's simplicity for monotony! By including unlockable toppings and various upgrades, Pizza Clicker Tycoon ensures that players stay engaged throughout their entrepreneurial journey. Each tap brings you one step closer to unveiling an enticing assortment of toppings. From olives to pepperoni, each addition adds a dash of complexity to your burgeoning pizza empire.
This lucrative slice of virtual capitalism expands beyond mere clicking. You'll need to strategize and decide when it's best to spend your hard-earned dough on upgrades for better equipment or faster pizza production.
If you've ever fancied yourself as a tycoon in the making, Pizza Clicker Tycoon perfectly blends elements of tycoon games with the instant gratification provided by tap games. It's easy to pick up but be warned - it's hard not to become invested in this addictive adventure.
All in all, Pizza Clicker Tycoon cooks up a perfect blend of casual gaming with a hint of strategic depth that will keep clicker enthusiasts coming back for just one more slice. So get ready to roll up your sleeves and transform every single tap into a pizza-laden goldmine!
What are the best online games?