Parkour Block 4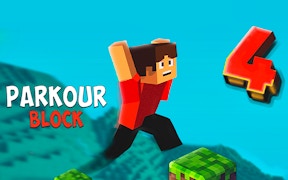 Parkour Block 4
Welcome to the exhilarating world of Parkour Block 4, a game that masterfully combines the thrill of action, the fun of block games, and the strategy of survival games into one enchanting experience. This entrancing fusion has resulted in one of the most innovative Minecraft Games on the current gaming landscape.
With its newly introduced speedrun mode, Parkour Block 4 propels you into a fast-paced landscape filled with varying obstacles and challenges. It tests your reflexes and hand-eye coordination, like any top-tier running games. But where Parkour Block 4 really shines is its incorporation of skill elements – proving that it's not just about speed, but also strategy and foresight.
Inspired by classic Mode from your favorite titles, this new chapter manages to bring back that same level of excitement right in your browser on both your computer and phone. This element undoubtedly positions Parkour Block 4 as one of the top browser-based pixel games out there. Its classic mode hearkens back to simpler times while infusing it with refreshing new mechanics.
As for its hardcore mode, brace yourself for a wild ride. It ramps up the difficulty and truly tests your mettle in multiple ways - no doubt a delightful challenge for veterans of survival games. More levels await to keep you entertained for endless hours.
In conclusion, Parkour Block 4 is a stand-out gem among action block games and survival Minecraft Games. Its speedrun feature combined with its classic mode makes it an engaging experience for both newbies and seasoned gamers alike. Get ready for a running game that pushes your skill limits while keeping you hooked with pixel-perfect graphics and immersive gameplay.
What are the best online games?