Muscle Man Rush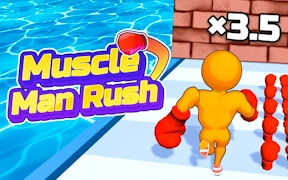 Muscle Man Rush
Description
In Muscle Man Rush, players step into the shoes of a fearless running-hero on an exhilarating journey inspired by boxing. Each level is filled with treacherous obstacles and perilous foes that you must surmount using your powerful fists. The ultimate test of your mettle lies in defeating the menacing end-boss and asserting your supremacy.
How to play
To play, navigate your hero across the treacherous terrain using intuitive touch controls. Unleash punches by tapping on enemy characters and jump over hazards by sliding upwards on the screen. The more enemies you defeat, the higher you level up, allowing you to become more powerful and capable of taking on tougher adversaries.
Tips and Tricks
Keep an eye out for power-ups along the way as these can boost your abilities and replenish lost health. Timing is an essential skill - be swift with punches but also patient enough to avoid unnecessary fights. Remember, your goal is not only survival but also maintaining a high speed to outrun pursuing foes.
Features
Motivating progression system: Level up by unleashing punches and defeating enemies.
Challenging gameplay: Face off against a multitude of opponents, including a tough end-boss.
Inspiring theme: Inspired by boxing, this game brings elements of this popular sport to an action-packed running game.
User-friendly controls: Easy-to-learn controls make it accessible for players of all ages and skill levels.
What are the best online games?