Multiverse Space War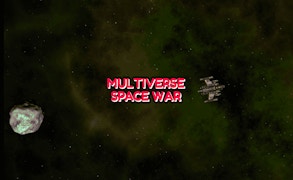 Multiverse Space War
Description
In Multiverse Space War, you step into the shoes of James, a valiant spaceship pilot tasked with defending Earth and its neighboring planets from onslaughts of renegade spaceships. These interlopers come from various universes, each bringing unique and formidable challenges. Your mission is to navigate meteor showers and engage enemy ships in high-stakes aerial combat. The fate of your universe hangs in the balance.
How to play
Commanding your spaceship is simple but requires swift reflexes and strategic piloting. Use the Arrow Keys to change direction, press W to accelerate the ship forward, and use the Space Bar to unleash your firepower against incoming foes and flying debris. Master these controls to outmaneuver and outgun your adversaries.
Tips and Tricks
To survive this interstellar battle, it's crucial to keep moving using quick changes in direction, making it harder for enemies to target your ship. Be innovative with your use of acceleration and gunfire – sometimes, releasing a volley of bullets can clear a safe pathway through a meteor shower.
Features
An exciting space shooter game set across multiple universes
Action-packed gameplay against hostile spaceships and dangerous meteors
Simple yet engaging controls promoting strategic combat maneuvers
A power-packed narrative turning every player into an intergalactic defender.
What are the best online games?