Mr Jone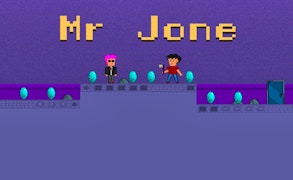 Mr Jone
Description
In Mr Jone, you're plunged into a spine-chilling 2D world, tasked with the mission of collecting all the elusive blue gems. The journey won't be easy - you'll need to evade menacing enemies and dodge lethal spikes while navigating your way to the exit door. This action-packed platformer comprises 8 challenging levels that will test your survival and escape skills to the limit.
How to play
The controls are simple yet crucial for surviving in this treacherous world. You can use WASD or arrow keys for player's movement. To overcome taller obstacles, employ the double jump. This can be achieved by pressing "W" or "Up arrow key" twice in quick succession. Reaching the Exit door marks successful completion of a level.
Tips and Tricks
To excel in Mr Jone, timing is key - anticipate enemy movements and jump just in time to evade them. When collecting gems, remember that double jumps can help reach seemingly inaccessible gems. Also, look out for hidden areas where extra gems or power-ups may be stashed.
Features
Engaging Enemy Characters: Unique foes that offer a thrilling gaming experience.
Diverse Levels: Eight different levels with increasing difficulty to keep players on their toes.
Precise Controls: The game's precise control system offers both ease and challenge.
Mysterious Gems: Shimmering blue gems scattered across levels add a layer of intrigue.
What are the best online games?