Mr Dracula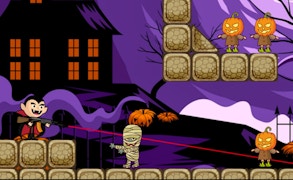 Mr Dracula
Delve into the shadowed realm of horror-shooter gaming with the unmissable thrill - Mr Dracula. An adrenaline-pumping fusion of puzzle-solving and fearsome monster encounters, this game perfectly frames the best elements of gun games, monster games, and scary games.
The gameplay unites intricate puzzles with a sophisticated physics-based shooter system, making it a riveting experience for those who enjoy a twist of intellect within their shooting sprees. Each level is fraught with danger and devilishly clever obstacles, demanding quick thinking and pinpoint accuracy from the player.
The heart-thumping aesthetics are reminiscent of an eerie Halloween night - perfectly setting the crepuscular atmosphere for a game that firmly places itself within the league of the best scary games. Encountering the various monstrous entities that lurk in Mr Dracula's world is a chilling experience that's sure to keep you on your toes!
In terms of shooting mechanics, Mr Dracula takes it to another level. The physics-based shooting system is arguably one of the most realistic ones out there. The way each bullet zips through the air, hits targets and interacts with environmental elements is enough to keep any fan of gun games glued to their screens.
In sum, 'Mr Dracula' delivers an intoxicating blend of creative puzzle-solving, intense shooting action and horror-thrills. It's an absolute must-play for fans searching for something unique within their beloved genres - lending authenticity to its claim as one of the most fun-filled, engrossing and downright terrifying monster games.
If you're hunting down exhilarating gun games, exhilarating monster games, or bone-chillingly great scary games, then stake your claim in 'Mr Dracula' ― it'll leave you dying for more.
What are the best online games?