Mine Shooter: Monsters Royale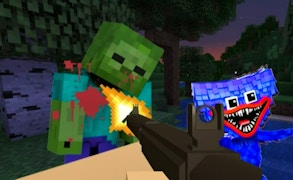 Mine Shooter: Monsters Royale
Welcome to the exhilarating universe of Mine Shooter: Monsters Royale, a unique blend of shooting, survival, and block-building genres that will have you hooked for hours on end. This survival game with a twist not only excels in the gun games category but also packs a punch in the realm of battle games. The intriguing combination of Minecraft's aesthetic with intense shooting mechanics, delivers an engaging and captivating gaming experience unlike any other.
Mine Shooter masterfully intertwines the thrill of pixel games with the chilling suspense found in zombie games. You are a lone survivor set in an immense blocky world, teetering on the edge of annihilation by ferocious zombies and malicious Huggy Wuggy. Your mission? Simple yet arduous - survive by shooting to kill.
As soon as you plunge into this vibrant world of blocky warfare, your adrenaline surges. Every step triggers heart-pounding anticipation as you navigate through this perilous journey that challenges not only your shooting skills but also your survival instincts. The battles are brutal and the stakes are high. Will you be able to emerge victorious against these monstrous beings or succumb to their reign of terror?
The pixelated graphics provide a fascinating contrast to most gun games, crafting an immersive experience that breathes fresh life into familiar gameplay mechanics. With its unique blend of Minecraft-like elements and zombie combat, Mine Shooter: Monsters Royale redefines what we expect from battle games.
In conclusion, Mine Shooter: Monsters Royale offers gamers an exquisitely-crafted battlefield teeming with danger at every turn and strategy that goes beyond just pulling a trigger. It's more than just a shooting game; it's an exquisite journey of survival amidst chaos that will keep you enthralled for hours on end.
What are the best online games?