Mine Shooter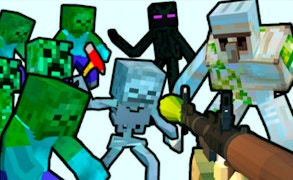 Mine Shooter
Take a voyage into the pixelated universe of Mine Shooter, a phenomenal union of block games and visceral gun games, uniquely intertwining the most beloved elements of both genres. This high-octane experience is an absolute must for fans of thrilling battle games and strategic Minecraft Games.
Mine Shooter encapsulates the intense thrill of survival games, urging players to put their agility, strategy and resilience to the test. With an intimidating arsenal, including everything from assault rifles to bazookas, you're on a mission to protect your fortress in MineWorld from an unrelenting onslaught of enemies.
Taking the nerve-wracking stakes of sniper games, Mine Shooter escalates the action with its explosive gameplay. Raising your heart rate with every shot fired, it challenges you to fend off creepers before they explode, shooting skeletons before they reach you and dodging massive stone golems bent on wreaking havoc.
The game also gets its inspiration from terrifying monster games. You find yourself plunged into a world where hordes of zombies are ready to swarm your defences in heartbeat. With every level ascended, the game dishes out increasingly harrowing challenges, making it a suspense-filled thriller that keeps players glued to their screens till the very end.
In conclusion, Mine Shooter is not just a game but an exhilarating journey that immerses players into a combat-fueled adventure. With its brilliant blend of genres, robust gameplay mechanics and tension-filled narrative, it promises an unforgettable gaming experience that will have you returning for more. Show off your shooting skills in this spectacular battle for survival - only the bravest will conquer MineWorld!
What are the best online games?