Kingdom Guards Tower Defense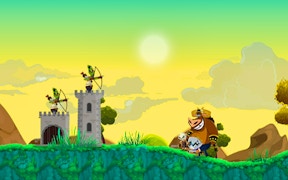 Kingdom Guards Tower Defense
Dive headfirst into the captivating medieval world of Kingdom Guards - Tower Defense, a pulsating entry in the ever-popular realm of knight games and battle games. Meyagames.com invites you to harness your strategic prowess and sharpen your combative skills in this high-stakes universe plagued by relentless monsters.
The game's premise is simple yet challenging: command your archers, unleash volleys of arrows, and defend your tower from waves of ferocious enemies. As an intoxicating blend of both archery games and monster games, Kingdom Guards propels you into the frontlines where precision, agility, and strategic planning are paramount.
Enthralling from the first arrow's flight, Kingdom Guards masterfully encapsulates the adrenaline rush inherent in war games. Every incoming wave presents a new challenge, whether it's rampaging trolls or fire-breathing dragons, testing your tactical decisions and forcing swift adjustments on the battlefield. This constant pressure to adapt on-the-fly is what sets this game apart as a mighty contender in the world of knight-themed action games.
The strategy doesn't end with well-placed arrows. Emotive sound design and atmospheric visuals enhance not just your gameplay experience but also immerses you deep within this medieval maelstrom. It becomes more than a game - it's a brutally beautiful war that demands your attention every second.
In conclusion, if you seek a game steeped in tactical warfare, where every decision can tip the balance between victory or defeat, look no further than Kingdom Guards - Tower Defense. Its innovative blend of archery-battle-monster-knight-and-war-game elements ensures a truly unique gaming experience that will keep you coming back for one more wave, one more battle!
What are the best online games?