KillMaster Secret Agent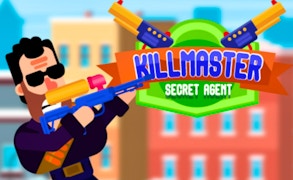 KillMaster Secret Agent
Immerse yourself into the thrilling world of the KillMaster Secret Agent, a stellar title that effortlessly merges gun games, skill games, running games, and the tense challenge of survival games.
In KillMaster Secret Agent, you assume the role of a fearless and resourceful secret agent, cutting your path through snowy streets filled with peril. The odds are stacked against you as countless masked men have taken hostages, causing fear and becoming a threatening force that needs to be eradicated.
Welcome to an ice-cold world where every corner holds potential danger. The thrill of this game lies not only in its shooting mechanics but also in its running game elements. It's a test of survival skills and agility as you navigate through unpredictable terrains, demonstrating your tactical prowess while outsmarting and outgunning your adversaries.
The stakes escalate as you progress through various levels. The faceless bosses that appear are not just mere opponents; they're walking fortresses requiring increased skill and strategy to defeat. The level of difficulty increases with every boss encounter, pushing you to evolve, adapt, and utilize every skill learned so far.
KillMaster Secret Agent is more than just a typical gun game; it's an intense survival game where every decision counts. There is no room for error in this high-threat environment; only the most skilled agents can survive in this ruthless world. So gear up, get ready for some nerve-racking challenges, and see if you have what it takes to be the ultimate KillMaster!
In summary, for all fans of skill-based shooting games, KillMaster Secret Agent is an absolute must-try. With its unique blend of varied gameplay mechanisms seamlessly strung together in an ice-cold environment filled with danger at every turn, it sets a new standard for immersive gaming in gun games genre.
What are the best online games?