Jungle Shotz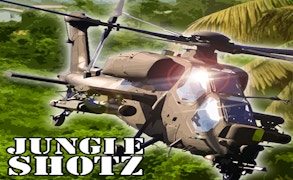 Jungle Shotz
Description
In Jungle Shotz, you'll experience the exhilarating thrill of classic arcade-style aerial warfare. Battle against unending waves of helicopters, trucks, jets, and armored tanks in a hostile jungle environment. Your mission is to obliterate them all before they reach you. A unique mixture of tension, action, and strategy awaits you in this relentless fight for survival.
How to play
Control your vehicle with the arrow keys or control stick to maneuver around the battlefield. Use the fire button to unleash projectiles on incoming enemies. The aim is to survive each wave and confront and defeat the bosses at the end of each level. Upgrades are available to enhance your firepower.
Tips and Tricks
To survive longer in Jungle Shotz, remember to keep moving – static targets are easy prey! Make good use of your upgrades; they can turn the tide in difficult situations. Try to take out enemies from a distance and always be aware of your surroundings.
Features
Intense arcade-style shooter gameplay.
Diverse enemies including helicopters, trucks, jets, and tanks.
Powerful upgrades for increased firepower.
Challenging boss battles at the end of each level.
Gripping jungle war atmosphere.
What are the best online games?