Idle Startup Tycoon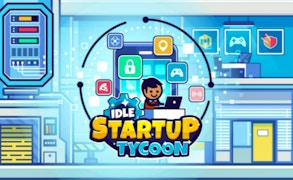 Idle Startup Tycoon
Immerse yourself in the world of idle games, clicker games, and management games with the captivating Idle Startup Tycoon, an action-packed venture into the throbbing heart of digital entrepreneurship.
In this high-intensity fusion of tycoon games and money games, you aren't just playing a game — you're riding the wave of tech innovation. Unlike typical city building games, Idle Startup Tycoon lets you erect a corporate empire with a twist — each building represents one of your cutting-edge start-ups. From food delivery apps to AI ventures, your ambition is the only limit.
Earn cash with every tap as you code up a storm in cool coworking spaces, then sit back as your sales managers take care of business. Tired of tapping? No problem. This game doesn't just fall under the banner of tap games; it's also one of those addictive idle games. Hire sophisticated managers to automate your tasks and keep your money flowing even when you're offline.
Become a high-tech billionaire or even a trillionaire by attracting investors to back your grand ideas. As exhilarating as it is rewarding, Idle Startup Tycoon offers an unparalleled simulation experience that seamlessly blends action and strategy.
If you're an entrepreneur at heart or just love the thrill that comes from management games, then Idle Startup Tycoon is designed for you. Ready to rise from tech novice to industry giant? Then boot up this game and prepare for an exhilarating journey into the pulse-pounding world of start-ups!
What are the best online games?