Helicopter And Tank Battle Desert Storm Multiplayer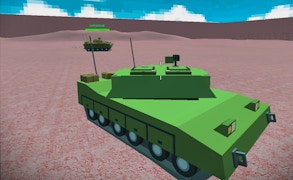 Helicopter And Tank Battle Desert Storm Multiplayer
Welcome to the thrilling world of Helicopter And Tank Battle Desert Storm Multiplayer, a game that makes tank games, battle games, helicopter games and war games a phenomenal experience for every gaming enthusiast. This is not just another entry in the survival games genre—it's a masterstroke of intense action, exciting gameplay, and real-world simulation that successfully merges the characteristics of different gaming genres.
Step into the unforgiving desert storm and immerse yourself in epic battles fought with tanks and helicopters. The game brings to life the gripping intensity of tank games and the heart-racing excitement of helicopter games, offering an innovative multiplayer platform that gives a new definition to player rivalry. The game stands out not only for its unique blend of genres but also for its realistic warfare settings that bring you right into the heat of combat.
The first thing you'll marvel at in this grand fusion of battle games and war games is the realistic depiction of bullet and rocket explosions. You'll be in awe as you destroy a tank or a helicopter, admiring the cool effects and ragdoll physics that ensue post destruction. These intricacies make this game more than just one among many survival games—it's truly unique.
A delightful addition comes with being able to drive your own helicopter or tank, making this one of those rare tank games where you can actually take hold of your war machine's controls. And what's more exciting than flying or driving together with your friends? This makes Helicopter And Tank Battle Desert Storm Multiplayer an incredibly immersive cooperative play experience—a feature hard to find even in other high-end battle games.
In conclusion, Helicopter And Tank Battle Desert Storm Multiplayer is not just another online shooting game—it's an awe-inspiring blend of war gaming genres that offers an exhilarating real-life simulation for all gamers around the globe.
What are the best online games?